UPDATED: January 19th, 2018
 Please call if you'd like to reserve a kitten!!!! 619-889-1148
SPECIAL OFFER! FREE PDF COPY OF OUR 64 PAGE, FULL COLOR BOOK,  "GUIDE TO OWNING A RAGDOLL CAT" WITH EACH DEPOSIT!
Here's how the adoption process works!!! When our kittens are old enough to know what the sex, pattern , and color are, but too young for pictures, they will be listed on this page along with the date they will be ready and the date the picture will be available (usually around 6 weeks of age).  Many kittens get deposits placed on them from this page before pics come out.   The chosen kitten will be removed from  this page  and any picture  would go to the new owner at 6 weeks of age upon request.  We do not show pictures or allow visits until the kittens are 6 weeks or older. If you go to the "Kittens Available" drop down menu, you will see pics of kittens that are old enough for a pic (6 weeks of age or older) which have not been spoken for.  At that point they go very quickly.   If you place a $200 deposit on one of the kittens below, you can request a picture around the time frame listed above.  If you do not like the picture of the kitten you chose then you can move your deposit to another available kitten (however, this rarely happens!). If you don't hear back from me in a timely manner, PLEASE don't hesitate to keep calling. As they say, "The squeaky wheel gets the grease!!" 619-889-1148.
Available January 25th!!! Pic below from top to bottom:
1 Seal Bicolor Male-Middle
1 Seal Mitted Male-Bottom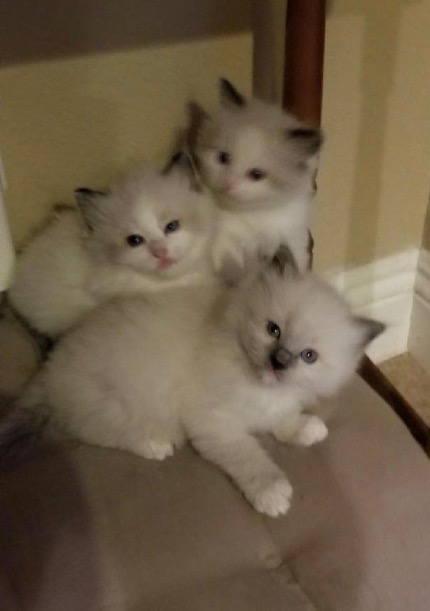 We have kittens just born!!! Watch this page for updates!!!
We have several new litters just born so we don't the exact colors and patterns yet, but they will be posted as soon as we know!  They should include flame point females!
---
We have a couple of litters on the way as well as all traditional colors and patterns. We expect to have virtually all colors and patterns soon, so we are now taking deposits. If you have a particular color and pattern in mind, you may wish to call us and reserve one now as we will have most available this spring and summer. You can get a pic of your kitten at 6 weeks of age. We do take VISA and MasterCard for your convenience.
Call 619-889-1148 or contact us by email.